A Professional, Classically Trained Piano Teacher who Offers Piano Lessons in Roswell, Marietta, Alpharetta, and Woodstock, GA.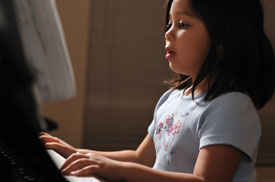 I am a classically trained piano teacher in the Atlanta area who's passion is to teach ordinary kids to do something extraordinary with music. The musical success of my students drives my passion for excellence. I am always aspiring to teach the piano in a challenging, yet clear and practical manner.
I maintain a highly successful piano studio of over 50 piano students, driving to their homes in Roswell, Alpharetta, and Marietta. I offer classical piano lessons to students of all ages and levels. Over half of them are homeschoolers who take piano lessons in the morning and early afternoon. Many regularly perform in CMTA (Cherokee Music Teacher's Association) and GMTA (Georgia Music Teacher's Association) piano auditions and the Romantic Piano Competition, some of whom regularly receive first place, honors and awards. Others are not quite at that level and are simply taking piano lessons to gain a greater appreciation and understanding of music. I welcome all enthusiastic students who are eager to learn, grow, thrive and love music.
Even more, is the fact that I teach the piano lessons in your home! No driving, no hassle, no "Atlanta" traffic, no wasting time in busy music stores. As a parent, you are able to do the things you want to while your child is having the piano lesson. And I do it at an extremely affordable price.
If you live in Roswell, Alpharetta or Marietta Area and are looking for a dependable, time-tested piano teacher to come to your house, look nowhere else. I guarantee results that you will not find elsewhere